In my goals post , I listed the books I wanted to read, after I posted it up I got down to my reading. I'm happy to say I've finished The Lightning Thief (Percy Jackson and the Olympians #1) by Rick Riordan. 😀 Today I'll try to finish Insurgent by Veronica Roth.
Challenge 1
Something Wicked This Way Comes challenge is hosted by Rebecca at Kindle Fever
"A wildfire is quickly coming your way! What thing/s do you grab when you only have a few minutes to make it out?"
(I've saved any people or pets in there already!)
I'd quickly unplug the cords from my CPU, grab it and run out of there as fast as I can escaping the ferocious flames consuming everything in it's path. My CPU is light enough for me to carry while running (I've done this before). It saddens me to leave my books behind but I have more than 8 years of memories of my life stored on this computer, family videos, thousands of pictures and all my favourite songs. It'd be heartbreaking to lose them.
Interesting that I had to answer that question because years ago, I almost lost my house to a fire and I remember thinking if only I was able to save my favourite stuffed bear, he was black with a red polka dot bow tie. I always get a little sad when I think about that time. If I could go back in time, I'd still want to save that same bear.
Challenge 2
Slake Your Thirst challenge is hosted by Kimberly at The Caffeinated Book Reviewer
For this challenge:
Help me create a recipe book for the Wicked Read-a-Thon:
Share your favorite drink recipe and the cover of your favorite/most anticipated summer read!
Recipe: Mudslide
I found this recipe at drinksmixer.com and modified it a bit.
Serves: 1
1 oz vodka
1 oz Kahlua coffee liqueur
1 oz Bailey's Irish cream
1 oz cream
Drizzle sides of glass with chocolate syrup. Shake all ingredients with ice and pour over ice in the glass. You can add whip cream to the top but I prefer vanilla ice cream.
This a very heavy, fattening, delicious drink so I prefer to share my glass with a friend and have a glass only for celebratory reasons. 😉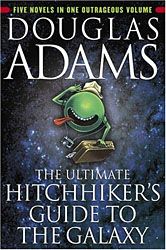 I am most looking forward to reading The Ultimate Hitchhiker's Guide to the Galaxy by Douglas Adams. I have been wanting this book for a very long time but my local bookstores don't carry it and finally my dad ordered the book for me. I am beyond excited, I need a humorous, random fun filled book and I really enjoyed the movie.
Challenge 3
 
Cover Lover by Marie of Ramblings of a Daydreamer
Write the book title in the box that corresponds with the cover's number.
Done on the site.
Challenge 4
Wicked Title Trouble is hosted by Melissa of Melissa's Eclectic Bookshelf
Make up the most interesting, creative, funny, romantic, mysterious, or simply ridiculous sentence that you can using at least 3 of the following book titles: Catching Fire, Solstice, The Sandcastle Girls, Heat Wave, The Beach House, Born Wicked, Rising Sun, How to Ruin a Summer Vacation, That Summer.
My response:
How to Ruin a Summer Vacation guide by The Sandcastle Girls: we released a ferocious Heat Wave in The Beach House whose sweltering heat rivaled that of the Rising Sun resulting in hair Catching Fire leaving many ladies quite bald That Summer.
Challenge 5
Sonnets & Songs is hosted by Amanda of Letters Inside Out . I was not going to do this challenge, I kept thinking of my emo poetry and bad writing (it still is bad) but at 4:30 a.m. I decided I might as well give it a try.
I challenge you to write an original love poem or song to or from a book character!
My poem is dedicated to the brave and awesome Samwise Gamgee of Lord of the Rings, I am proud of my love for this stout hobbit.
Dearest Samwise Gamgee
I confess my love to thee
A merry, fat hobbit is he
Loyal and brave and gentle
He fills my heart with glee
He's a best of friend indeed
If I ever needed elf bread
He'll always share with me
He'd climb mountains in blizzards
And no doubt he'll face evil
Like orcs and dark wizards
You see everyone needs a Sam
A friend in times of need
A friend to sing and laugh and dance
To maybe smoke pipeweed
Do you know Samwise
How much you mean to me?
The truest sort of friend
That people should strive to be
Challenge 6
Beach Soiree is hosted by Kriss of The Cabin Goddess Reviews .
Describe:
Your perfect beach (from a book, or a place or a cover)
Your perfect date (provide a link to cover or book)
in your preferred swimwear (description, or link to image or cover)
With your first choice of books to read (title with link to book or to cover)
My perfect beach would be Anse Lazio on the island of Seychelles. Gorgeous, isn't it? I haven't had a crush on a character in a book for a very long time but if we're counting comics then my perfect date would be Tony Stark, a.k.a Iron Man. For a book character, I'd have to choose a platonic kind of date with the most awesome twins, Fred and George Weasley. Since I'm not crushing on any characters I might as well go with friends I'd have fun with, who knows what shenanigans I could get into with them? 😀
I'd probably wear a cute bathing suit with polka dots like this or this. When I'm tired of running around in my little polka dot bikini, the book I choose to read is Know Not Why: A Novel by Hannah Johnson. This book can do funny things to my heart and it'd be the perfect escape when I'm finished wrecking fun, pranking havoc on the island of Seychelles.

Challenge 7
Mix 'n Match hosted by Benji of The Non Reluctant Reader
Match the covers with the quotes, each quote you match correctly is one entry to win a book from The Book Depository!
Done on website
Challenge 8
Party Up With Literature is hosted by Preet of A Written Rhapsody
Pick a character(s) from your current read and do at least two of the following:
Create a catchy band name for your group of characters or solo artist.
Tell me what genre they would sing.
Find a song and/or lyric that would fit the book and tell me who it's by and why it fits.
Find a music video that would relate to the book and leave the link.
Create a playlist of three to five songs that would go with your book.
My response:
Since I've only started Cinder, I decided to choose the book I finished a few hours ago: The Girl with the Dragon Tattoo by Stieg Larsson.
Even the unexplained, odd feeling (was this *gasp* friendship?) Salander has towards Mikael is not enough to convince her to start a band with him and Mikael knows better than to push her so together with his Millennium partners Erika Berger and Christer Malm he forms a band called Too Much Monkey Business. It was appropriate considering the corruption in the corporate business world they proudly exposed in their magazine and Mikael is a fan of Elvis Presley. The genres they sang included Rock and roll and blues, even jazz at times and very often they covered Elvis' songs. Mikael insisted.
Here are where things get a bit disturbing so be warned. The lyric I chose is from the song Closer by Nine Inch Nails:
You let me violate you.
You let me desecrate you.
You let me penetrate you.
You let me complicate you.
Help me.
I broke apart my insides.
Help me.
I've got no soul to sell.
Help me.
The only thing that works for me.
Help me get away from myself.
I can't really explain why I chose this song because it would give away the entire book. It is dedicated to two characters and the very disturbing relationship they shared and the results of such a relationship. There was no escaping each other and it only created more monsters for the world.
The music video I chose is Cage by Dir en Grey, it is a slightly disturbing video and there are some bloody bits:

That is dedicated to another character who could never escape the tormented life they had. There are are so many scenes and themes in this video that I feel relates with the book but again I can't discuss it because I would spoil the book. ;__;
The playlist I chose for the book:
Radiohead – Creep
Nine Inch Nails – Physical (You're So)
Clint Mansell – Requiem for a Dream
Midnight Syndicate – Grisly Reminder
Challenge 9
Wicked Summer Scorcher hosted by April of My Shelf Confessions
You're a vampire who HAS to run in the sun to grab 3 precious items, you have some thinking to do.
How are you going to protect yourself from the sun; from getting scorched to a little vampire crisp? Tell me what you'd do and how you'd do it and HOPEFULLY you'll survive to see another sunset.
My response:
Since I'm a vampire I'll assume two things:
1. I've lived for so long that my family is dead unless they're vampires as well so no need for me to grab a precious person.
2. If vampires exist (clearly I'm proof), then other paranormal creatures exist as well therefore I have a sexy wizard boyfriend.
My sexy, wizard boyfriend, let's call him Alex Cobalt can do magic and perform spells. In order to get my 3 precious things back, my computer, my favourite art set and my blanket (don't judge, even vampires get sentimental about something and its comfy!) he can do a simple spell, a flick of his wand and my items can whiz right toward me but since I have to go out in the sun, he creates another spell, Sol Solis Barrier. It creates a very powerful, invisible barrier around me which protects me from the sun. I run out and quickly retrieve my items so now I can go back to reading my favourite book and wait for the moonlight to go dancing around on the streets…with Alex of course.
I think I might be getting way into these challenges at times but they're so much fun. This ends the challenges for the WW Read-A-Thon, hope you all had a great time too.