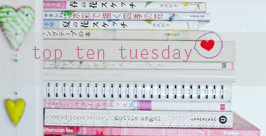 Top Ten Tuesday is hosted by The Broke and the Bookish. I've started off my year reading two LGBT books, The Song of Achilles and As Meat Loves Salt, both of which I loved. I can't seem to get enough of these books, specifically lgbt themes in historical war settings. While checking through goodreads lists I recognized several LGBT books that have either been on my wishlist/shelf for years and books I just generally want to jump on.
1. Annie on My Mind by Nancy Garden – This book is a staple I need to get too, I rarely reading fiction with lgbt female protagonist so this year I definitely need to rectify that.
2. Golden Boy by Abigail Tarttelin – I adore the cover and I've seen fantastic video reviews on the story.
3. The Miseducation of Cameron Post by Emily M. Danforth – Been on my wishlist forever, it seems like a good, substantial contemporary to get lost in.
4. Fan Art by Sarah Tregay – Been on my wishlist for a while.
5. One Man Guy by Michael Barakiva – I love coming of age stories and this one just seems adorable.
6. The Persian Boy by Mary Renault – This book seems like it would feed my new love for historical fiction and I've read fantastic things about the author.
7. Everything Leads to You by Nina LaCour – Beautiful cover and lovely title, this books just sounds sweet and wonderful and I need to read something by Nina LaCour.
8. At Swim, Two Boys by Jamie O'Neill – I've attempted to read this twice now, the writing takes some getting used to so maybe that's why I lost my patience and abandoned it but the reviews have me intrigued and determined to read this book.
9. Personal Effects by E.M. Kokie – There's just something about this synopsis that pulls me in everytime, I've always put off picking it up but I'd like to satisfy my curiosity soon.
10. Middlesex by Jeffrey Eugenides – I've had this book on my shelf for years, while I didn't enjoy The Virgin Suicides I still liked the author's writing and the plot sounds very different from anything I've ever read.