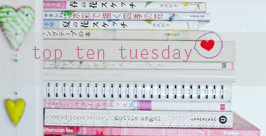 Top Ten Tuesday is hosted by The Broke and the Bookish. 2012 was the year of discoveries for me when it came to great books and during that year I found 10 brilliant auto buy authors.


After hearing so many great things about Jellicoe Road I impulsively bought Saving Francesca and The Piper's Son. I didn't know I would end up falling so hard for her writing and realistic characters and now she's currently my favourite author.

I have only read Anna and the French Kiss but I have every intention of purchasing all her brilliant books. She writes romance so well and her books always make me feel good.


I have only read A Monster Calls but I definitely know I'm going to enjoy all his books. He has unique concepts and he executes them so flawlessly. I couldn't put down A Monster Calls and any author that makes me cry throughout reading their book is an author that belongs on this list!

I remember the days as a teenager mourning because I couldn't find Sarah Dessen's books. Now they fill my book stores. Her books are always well balanced and I like the way she addresses issues. Even after all these years I'd still buy her books without question.

Veronica Roth's writing is exciting and fast paced, she's the type of author who'd get me out of a reading slump and have me glued to the pages of her books. I love the Divergent series and I can't wait to see more of her awesome writing.

A newly discovered author for me but after reading Eleanor & Park I knew I couldn't resist ordering her books. Rainbow Rowell is an unforgettable author and I'm pretty sure her books would always have a place in my heart. I can't wait for Fangirl!


John Green is an amazing person. Looking for Alaska was the first book I read by him and I was surprised by how much I could connect with the messages in the book and how powerful I found his words to be. The Fault in Our Stars solidified my love for his writing. His voice is so distinct and his own, if you've ever watched vlogbrothers then you've probably imagined him narrating his books.


This is one of my two weird authors to be on this list. I haven't actually read his books though I have watched the movie The Invention of Hugo Cabret and loved it. I own Wonderstruck and The Invention of Hugo Cabret and I'd always flip through the pages admiring the beautiful drawings. If his future books have illustrations in them then I'd most likely buy it.

My second oddity on this list. I also have yet to read Michelle Hodkin's books and I'll shamelessly say I would collect her Mara Dyer trilogy simply for the beauty of it. The books are gorgeous but I'd never let them sit on my shelf collecting dust. I do want to read them after I've bought the entire series because I faith I'd love her books.


Rick Riordan is my favourite go to author for escape fiction. I love the humour in his books, his unique style of writing mythology and he creates fantastic characters.