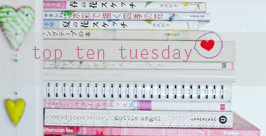 Top Ten Tuesday is hosted by The Broke and the Bookish. My site is currently a mess as I am redesigning but I couldn't resist this topic. I'd love to see how these characters are doing years down and I get ridiculously excited whenever an author writes a sequel story on the main characters or spin off on side characters.
1. Jimmy Hallier from Saving Francesca – The ultimate curiosity. This is my all time favourite book and Jimmy was always a bit of a mystery, he was very insightful and knew the right things to say and do but somehow you didn't know much about him. I'd give so much to know how his story unfolds.
2. Luna Lovegood from the Harry Potter series – I'd love to get a peak into Luna's adventures. They'd be a bit mad and fun and wonderful to get lost in.
3. Ronan Lynch from the Raven Cycle series – I didn't want to include unfinished series but I adore Ronan and I'm hoping a glimpse into his future shows Adam because I am majorly shipping them.
4. Liesel Meminger from The Book Thief – I want to see Liesel happy, I want to see how she lives and loves and how she continues to wield her words.
5. Noah from I'll Give You the Sun – Noah has one of the most vivid, beautiful minds I've ever read, I'd love to revisit that and see how his artistry is coming along.
6. Aristotle and Dante from Aristotle and Dante Discover the Secrets of the Universe – I can't leave out two of my favourite boys, I want all the fluffy stories.
7. Chloe Saunders from The Darkest Powers series – I haven't read the spin off but I loved Chloe when I was younger, I want to know that she is safe and well and happily together with my ship.
8. Kingsley Edge from The Original Sinner's series – I will consume everything written about Kingsley, he is a fascinating character and I'm a sucker for characters with unrequited love. I hope to see his love returned in the future.
9. Eleanor from Eleanor & Park – That open ending is enough reason to want to know how Eleanor's life is looking.
10. Teeth from Teeth – Oh my sassy half fish friend, how I long to know where you are and what you are doing.