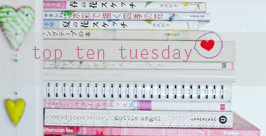 Top Ten Tuesday is hosted by The Broke and the Bookish. I wish I had more time in the world so I can reread my favourite books rather than swiftly moving on to new books to make in through my endless tbr. But of course I don't and it's very rarely that I'd actually reread a book even though there are quite a few stories I'd love to revisit. Here's my list of books I'd love to reread and hopefully one day I'd be able to.
1. Finnikin of the Rock by Melina Marchetta – My favourite YA fantasy book, I'd just love to revisit these characters and their journey. Sometimes I'd think about how much I miss them and how much I wish I could read this series for the first time again.
2. The Book Thief by Markus Zusak – This book deserves to be read multiple times, its extraordinary and tragic and I feel like I'd always take away something new from it.
3. Teeth by Hannah Moskowitz – Why I would ever want to put myself through the pain of Teeth and Rudy is beyond me but there's something so entrancing about their relationship. Also, if I ever crave heartaches while reading this is definitely the book to turn to.
4. Eleanor & Park by Rainbow Rowell – I just really love Eleanor and Park.
5. Jane Eyre by Charlotte Bronte – I deeply admire Jane Eyre and the relationship between Jane and Mr. Rochester makes my emotions stutter.

6. Cress by Marissa Meyer – Carswell Thorne. Also, that new side character. And Cinder being completely badass.
7. The Prince by Tiffany Reisz – Undoubtedly one of the sexiest books I've ever read. Kingsley and Soren are my dangerous OTP. I need more of their twisted relationship.
8. The Graveyard Book by Neil Gaiman – Occasionally, I'd think about this story and how time has made my heart grow fonder of it and how it's remained my favourite Neil Gaiman book though I don't know why. I need to revisit it to understand why I love it so.
9. The Sky is Everywhere by Jandy Nelson – I need more of Jandy Nelson's writing in my life.
10. Harry Potter and the Deathly Hallows by J.K. Rowling – I've always tried to reread the Harry Potter series making it as far as book 3 and then derailing. It'd be an accomplishment if I finally make it to the last book.