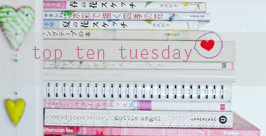 Top Ten Tuesday is hosted by The Broke and the Bookish. Most of this is a mix of LGBT and New Adult books.
1. Breaking Saint Jude by Nikki Godwin – I saw this on Cayce's blog and the synopsis made me think of Andrew Smith and his weird but awesome stories so I just have to read this some time.
2. Kindred by Octavia E. Butler – On my search for interracial couples I stumbled upon this one, not sure if there's any romance in it but the premise sounds very intriguing.
3. Everything Begins and Ends at the Kentucky Club by Benjamin Alire Sáenz – I loved Ari and Dante, I need more of this man's beautiful writing.
4. Hushed by Kelley York – I'm always wanting new LGBT stories and I got this recommendation from The Fussy Librarian .
5. Black Iris by Leah Raeder – I had an awful experience going into new adult, a trusted reviewer seemed to be having the same problem but she loved this book as well as the next two so I decided to add them for future reference.

6. The Star Thief by Jamie Grey
7. Unravel by Calia Read
8. None of the Above by I.W. Gregorio – I've never read a book about an intersex character so I'm really excited to check this out.
9. Stories of The Boy with the Yellow Socks by J. Carter Swift – Another one from Cayce's blog I believe.
10. Fish Out of Water by Natalie Whipple – I love contemporaries about familial relationships and this one just sounds nice.