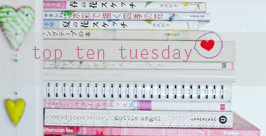 Top Ten Tuesday is hosted by The Broke and the Bookish. Ever since I started book blogging I've been on a book buying rampage. Whether it be from hyped books, gorgeous covers or dazzling reviews, I somehow managed to convince myself that I needed these books. Unfortunately, they still sit on my shelf taunting me having not read them.

When I was younger my wish was to read Sarah Dessen but my book stores didn't carry her books. Years later, her books line the shelves and I've managed to pick up like 5 but I've only read one of them. The shame!


Positive reviews, high ratings and the words "life changing" made me excited to read this book and I did start it at a point but exams got in the way and it has sat on my shelf now for quite some time. I keep telling myself that it's one of those books I need time to savour.

Another book I started yet I put down. My attempt at reading culturally different books and adult fiction was a complete fail.


Soo I also started this one and I didn't finish some stories but they left my disappointed and unfulfilled that I just avoid this book. Anything with the words zombies and unicorns in it should not be making me feel this way.


I have a love/hate relationship with paranormal books but a lot of people said this was different. That was enough to intrigue me so I got it. In my defense, I was waiting for the series to be complete before starting it.


I bought this so long ago, I was trying to read more classics but I got intimidated by the language and ended up abandoning it. Since then I've tried a few classics so hopefully I can try reading this book again.

I've got no excuses as to why I haven't started this as yet. The concept sounds amazing and I love the writing style but alas it rots on my shelf. (not really rotting)


Pretty book! How can I not buy it? Also, I am waiting for the series to be completed before I start the series.


The cover is so cool, this was one of those books where I had to get it in this cover. My towering TBR keeps me from reading this book.


See how my post is filled with "waiting on the series to be finished before reading" books. This series should be my lesson not to buy a series before finishing the first book. The first book was so disappointing but I already bought the second book in the series thinking that I was good love it. *sigh*