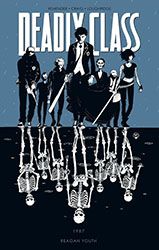 Title: Deadly Class
Author: Rick Remender, Wesley Craig, Lee Loughridge
Published: July 16th 2014 by Image Comics
Purchase: Book Depository | Amazon
Synopsis:
t's 1987. Marcus Lopez hates school. His grades suck. The jocks are hassling his friends. He can't focus in class. But the jocks are the children of Joseph Stalin's top assassin, the teachers are members of an ancient league of assassins, the class he's failing is "Dismemberment 101," and his crush has a double-digit body count. Welcome to the most brutal high school on earth, where the world's top crime families send the next generation of assassins to be trained. Murder is an art. Killing is a craft. At Kings Dominion School for the Deadly Arts, the dagger in your back isn't always metaphorical.
Deadly Class was unlike anything I've ever read, it wasn't that the concept was unique, an assassin school for children from crime families, but the execution was different and interesting. The stylized art was my favourite aspect of Deadly Class, switching between monochromatic beauty to trippy, riotous colour schemes, it definitely set the mood of each chapter. I loved the boldness of it, how it so readily captured the violence and dark humour of the story.
The story is slowly paced, beginning grimly with the protagonist homeless, desperate and alone. He's thrown into Kings Dominion School for the Deadly Arts, filled with malevolent and vicious kids. Nothing significant seems to happen in the story and with the exception of Marcus Lopez, all the other characters are so far one dimensional. The first volume barely seems to scratch the surface as its an introduction to the rules of the school, the characters that roam the halls and the cruelty of these future assassins.
There is savagery, acid trips and just madness. Its a wild ride of absurdity and I'm excited to see where the story goes.
Rating: