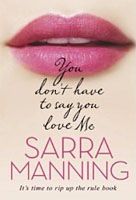 Title: You Don't Have to Say You Love Me
Author: Sarra Manning
Published: February 1st 2011
Purchase: Book Depository ♦ Amazon
Synopsis:Sweet, bookish Neve Slater always plays by the rules. And the number one rule is that good-natured fat girls like her don't get guys like gorgeous, handsome William, heir to Neve's heart since university. But William's been in LA for three years, and Neve's been slimming down and re-inventing herself so that when he returns, he'll fall head over heels in love with the new, improved her.
So she's not that interested in other men. Until her sister Celia points out that if Neve wants William to think she's an experienced love-goddess and not the fumbling, awkward girl he left behind, then she'd better get some, well, experience. What Neve needs is someone to show her the ropes, someone like Celia's colleague Max. Wicked, shallow, sexy Max. And since he's such a man-slut, and so not Neve's type, she certainly won't fall for him. Because William is the man for her…right? Somewhere between losing weight and losing her inhibitions, Neve's lost her heart – but to who?
My Review:
I LOVED this book. This book falls into my favourite chick lits ever read, I'm blind to whatever faults it may have (not really, I simply accept it all). I loved the chemistry between Neve and Max, I couldn't put this book down because I was enamoured with their relationship and couldn't wait to see how they developed. I was skeptical about the premise of a fake relationship but I fell in love with these two characters enough to stop caring about clichés or how naive Neve was.
She was naive, selfish and a little bit obsessive but I didn't really mind because I got a sense of how strong she was and how far she'd come and why she acted the way she did. Max was charming and wonderful even with all the locked away issues and he always told Neve what she needed to hear. He knew her and loved her for all that she was. This is more like a fangirl ramble than a review, I'll admit I don't know why I like this book as much as I do because it's not an outstanding contemporary read but it is very enjoyable.
Neve and Max have a cute relationship stemmed from a silly agreement and the just complimented each other. They understood each other and the romance wasn't over the top. It was a great set of characters and their interactions were fun to read about, it added to the reasons of why I like this book.
Even with its fairly predictable plot and sometimes slightly frustrating, very flawed characters, I loved this book and I owe it all to Sarra Manning for making me care about the characters she'd created. It had been a long time since I felt that way about a chick lit and I definitely recommend this book if you're a fan of the genre. It's one of those books I know I'll be rereading in the future.
Rating: