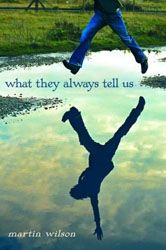 Title: What They Always Tell Us
Author: Martin Wilson
Published: August 12th 2008 by Delacorte Books for Young Readers
Purchase: Book Depository | Amazon
Synopsis:
James and Alex have barely anything in common anymore—least of all their experiences in high school, where James is a popular senior and Alex is suddenly an outcast. But at home, there is Henry, the precocious 10-year-old across the street, who eagerly befriends them both. And when Alex takes up running, there is James's friend Nathen, who unites the brothers in moving and unexpected ways.
What They Always Tell Us is a character driven book exploring the lives of two brothers, Alex and James. It's a quiet and simple book but I expected more from it so I was underwhelmed by the story.
Martin Wilson's writing was easy to get lost into, I fell into that lazy, slow town Alex and James resided in and their individual frustrations were easy to identify with. James and Alex were both very different. James was the popular guy who wanted to escape the small town he was stuck in, he was angry, a coward and insecure though he always put up an-everything-is-fine front. Alex was avoided, isolated, vulnerable and he was always in James's shadow.
I adored both Alex and James, it was very enjoyable reading from each of their POV. I liked the way the characters developed, James facing the issues he avoided and Alex's quiet determination to want and to be happy. Although I felt like the supporting characters fell a bit flat and were undeveloped, they played essential roles. Each character introduced had some part in bringing Alex and James together. Henry was the biggest mystery, I felt like he was a vessel used to bring these two brothers together as his appearances were so sparse but my heart also hurt for him in those short moments he was present.
Coming of age defines this book, it was about self discovery and acceptance through the quiet happenings and encounters in their lives, not only for Alex and James, but the supporting characters as well. I liked that the themes of this book weren't pigeonholed into one focal point but was spread across the development of James and Alex, their tentative friendships with other characters and their experiences throughout the book. It was bittersweet and painful and moving, everything a contemporary should be but it just felt average. It was a solid book but nothing I hadn't come across before though the LGBT theme was the only aspect that set it apart from other books as it was handled so well here.
There were so many good things about this book but I was still left feeling unsatisfied. I recommend this book if you're looking for a quick, relaxing, realistic story or you're a fan of LGBT or coming of age.
Rating: