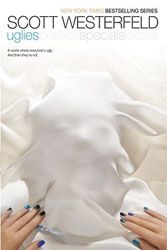 Title: Uglies
Author: Scott Westerfeld
Published: Published May 3rd 2011 (first published March 1st 2005)
Purchase: Book Depository | Amazon
Synopsis:
Tally Youngblood is about to turn sixteen, and she can't wait for the operation that turns everyone from a repellent ugly into a stunningly attractive pretty and catapults you into a high-tech paradise where your only job is to party. But new friend Shay would rather hoverboard to "the Smoke" and be free. Tally learns about a whole new side of the pretty world and it isn't very pretty. The "Special Circumstances" authority Dr Cable offers Tally the worst choice she can imagine: find her friend and turn her in, or never turn pretty at all. The choice Tally makes changes her world forever.
The premise of this book was very interesting, when a person turns 16 they undergo extreme surgery that turns them pretty eliminating jealousy and bias in society. I did not love this book, there was something very dry and distant about it and my initial hope of enjoying this wore down the longer I read Uglies.
I liked Scott Westerfeld's writing, it was visual and immersive and it was easy to imagine the settings. I liked the terminology he used in creating his world and he gave a unique and more detailed explanation as to how current civilisation destroyed itself. However, I did not like the pacing, it was slow and even when there was action I wasn't captivated by the story.
Initially, I liked Tally Youngblood, she was gutsy and fun and I liked her friendship with Shay but I never connected with her. I also felt like her love interest lacked personality, something that made him distinct and likeable. It annoyed me that she didn't think things through and only until the very last pages she slightly redeemed herself. I didn't care about the characters so it made reading this book difficult.
I wasn't impressed by the storyline though I did like the idea. There were moments where I was absorbed in certain events but it was often interrupted with long stretches of tedious development. There wasn't enough suspense or thrill in the action so this book just fell flat.
This wasn't a bad book, I liked the way Scott Westerfeld portrayed the society and the messages he tried to get across but I just didn't connect with the characters and the story at all.
Rating: