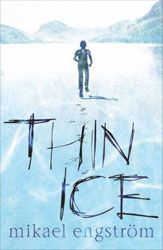 Title: Thin Ice
Author: Mikael Engström
Published: Published April 01, 2011 by Little Island
Received From: Book Depository for review
Purchase: Book Depository
Synopsis:
Where would you rather live – in a lonely flat with your drunk father, only bearable when your big brother is home? Or in a small, snowy village with a frozen lake, where your aunt burns books to keep the house warm, and a girl called Pi makes your heart beat a bit too fast, and your cranky old neighbour teaches you to catch fish that look like ice dragons, and a hawk owl watches out for you by night?
Mik has been skating on thin ice his entire life. When he is forced to leave his new home with his aunt Lena, he leaves behind icy northern Sweden and all his new friends, and his life becomes a living nightmare. Through forests and along train lines, over rapids and waterfalls, Mik is determined that nothing will stop him from finding home at last.
Thin Ice revolves around the life of Mik. It's a dark and dreary story though filled with adventure, eccentric characters, quiet towns and imagination. While I wanted to like this book I couldn't connect with it at all.
I did not like the writing style; the sentences were short and sometimes clumsily put together making the prose awkward to read. Chapters and certain scenes ended abruptly and the pacing was far too slow for my enjoyment. However, Mikael Engström's writing was able to express his character's feelings expertly and further into the book I adjusted to his style. There were certain chapters that expressed how dark and painful Mik's life was but it was balanced with bursts of humour, great friendships and crazy adventure.
Thin Ice was filled with odd characters. There was a girl who sucked on the earlobes of strangers, a woman who burned trashy books to keep warm and old men who never spoke to each other though they were twins. Despite my enjoyment of this interesting cast, the characters felt one dimensional and they were still a mystery. I couldn't bring myself to care for any of them. Mik was the only well developed character in Thin Ice. He made bad decisions and was annoying but throughout the book he gained courage and understanding and I liked the way he fiercely fought for the life he wanted. I liked his childish innocence and imagination and it took me back to when I was a child.
I liked the relationships between the characters and the strong community. Selet, though cold was a heart warming place to read about and I liked the messages the book tried to bring across but I've seen it portrayed better. Thin Ice just wasn't the book for me, I couldn't get into the story until the last 100 pages and even that wasn't satisfying enough to erase the issues I had with it.
Rating: