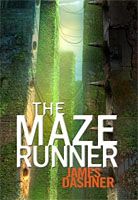 Title: The Maze Runner
Author: James Dashner
Published: October 6th 2009
Purchase: Book Depository ♦ Amazon
Synopsis:
When Thomas wakes up in the lift, the only thing he can remember is his first name. His memory is blank. But he's not alone. When the lift's doors open, Thomas finds himself surrounded by kids who welcome him to the Glade—a large, open expanse surrounded by stone walls.
Just like Thomas, the Gladers don't know why or how they got to the Glade. All they know is that every morning the stone doors to the maze that surrounds them have opened. Every night they've closed tight. And every 30 days a new boy has been delivered in the lift.
Thomas was expected. But the next day, a girl is sent up—the first girl to ever arrive in the Glade. And more surprising yet is the message she delivers.
Thomas might be more important than he could ever guess. If only he could unlock the dark secrets buried within his mind.
My Review:
The Maze Runner is one of my favourite dystopian books that I've read this year. It was amazing, intense and it had me distressed throughout but in a good way. I loved that the main character, Thomas, was thrown into this new world so like him there was a mixture of curiosity, fascination and foreboding. I found it refreshing that he was thrust into this new world like the readers. The story was immediately interesting and mysterious.
While Thomas was at the Glade for only a few days so many major events occurred adding to the intensity of the book. James Dashner is absolutely brilliant in creating a nightmarish atmosphere, his writing toyed with my emotions and I had a high level of anticipation as well as horror for what was happening. I didn't know what to expect or predict from the Maze Runner and turning the pages became daunting. That being said, a lot happens in this book and with every revelation my hope for the survival of this group became less and less.
I liked Thomas, he was practical, well adapted and smart and I appreciated Minho's confidence and humour. I didn't have any strong attachment to the other characters but I also cared if they survived. I liked the structure of their society and how they carried on their daily lives. I was more fascinated by the roles of the characters rather than love their personality. I did love the relationships that developed in the Maze Runner as well as the interactions.
My favourite was the snowballing climax that was horrific, brutal and utterly amazing and then the end just came crashing down. It was a great ending but I hated it because I was left distressed and depressed. There were parts in the book that frustrated me and I was left with quite a few questions but overall this was an awesome read.
The plot is so big that it's bursting at the seams, it could have easily been a hot mess but James Dashner kept it together and kept me wanting more as well as dreading the next book. I'd recommend this to all fans of dystopian, those who love fast paced, action packed books as well as post apocalyptic fans.
Rating: