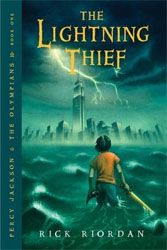 Title: Percy Jackson and the Olympians #1: The Lightning Thief
Author: Rick Riordan
Published: April 1st 2006 by Disney Hyperion Books (first published January 1st 2005)
Purchase: Book Depository | Amazon
Synopsis:
Percy Jackson is about to be kicked out of boarding school… again. And that's the least of his troubles. Lately, mythological monsters and the gods of Mount Olympus seem to be walking straight out of the pages of Percy's Greek mythology textbook and into his life. And worse, he's angered a few of them. Zeus' master lightning bolt has been stolen, and Percy is the prime suspect.
Now Percy and his friends have just ten days to find and return Zeus' stolen property and bring peace to a warring Mount Olympus. But to succeed on his quest, Percy will have to do more than catch the true thief: he must come to terms with the father who abandoned him; solve the riddle of the Oracle, which warns him of betrayal by a friend; and unravel a treachery more powerful than the gods themselves.
I read this series in 2012 and I was impressed by how original and refreshing it was to read. While I didn't connect with the story as much as I would've liked to I think my younger self appreciated this book a lot more.
I loved the writing style, it's fast paced, entertaining, had a great flow and it was very easy to imagine the monsters and characters. I loved the way Rick Riodan writes his characters, you get a sense of who they are by the actions they do and Percy is so damn funny.
I adored Percy's character, he was an awesome protagonist. He was sarcastic, brave and a normal kid who gets thrown into this different world so sometimes he did make stupid decisions. It was very fun reading from his perspective. I adored Grover and his love for chewing tin cans and nature. Annabeth didn't leave much of an impression on me other than being a smart character.
The plot was adventurous, fun and unpredictable. It wasn't too exciting for me but I was fascinated by the Greek mythology, it was a new reading experience. I became more invested in the last 100 pages of the book, things definitely picked up and even though I read spoilers I was still surprised by the plot.
Overall it was a quick, light read and it was everything I needed it to be. I remember being very stressed before I read this and it was such a great distraction from life. If you're looking for an escape book with refreshing ideas that you should check out the series, I can tell you that each book was better than the last.
Rating: