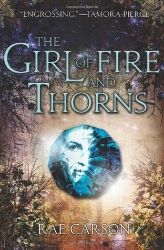 Title: The Girl of Fire and Thorns
Author: Rae Carson
Published: September 20th 2011 by Greenwillow
Purchase: Book Depository | Amazon
Synopsis:
Once a century, one person is chosen for greatness. Elisa is the chosen one. But she is also the younger of two princesses, the one who has never done anything remarkable. She can't see how she ever will. Now, on her sixteenth birthday, she has become the secret wife of a handsome and worldly king—a king whose country is in turmoil. A king who needs the chosen one, not a failure of a princess.
And he's not the only one who seeks her. Savage enemies seething with dark magic are hunting her. A daring, determined revolutionary thinks she could be his people's savior. And he looks at her in a way that no man has ever looked at her before. Soon it is not just her life, but her very heart that is at stake.
Elisa could be everything to those who need her most. If the prophecy is fulfilled. If she finds the power deep within herself. If she doesn't die young. Most of the chosen do.
This book has all the elements I love in a good story. An unlikely heroine that develops into this amazing strong willed, confident character, a tease of romance and complete focus on the plot of danger and adventure that occurs over a long period of time veering off in unexpected directions.
I love Elisa, it was so enjoyable witnessing her transformation. She was initially this insecure, scared little girl with hints of her underlying sharpness. Her traumatic experiences and the people she meets throughout her journey shapes her into this intelligent, quick acting battle strategist that I wholeheartedly cheered for. She was a wonderful character to read about.I loved meeting the cast of characters that breathe life into this book. I got mere glimpses into their personalities though this can be seen as underdeveloped, it's extraordinarily easy for the reader to build upon their identities.
This story was very addictive, the unpredictability of the events had me too excited to put this book down. For one, I love the way romance was done, it was teasing and subtle and placed on a back burner to the overarching kingdom politics and battles. While I would have liked more exploration into the world Rae Carson has crafted, I still really enjoyed the diversity of the societies, their struggles and traditions and I loved that feel of urgency with the looming battle. I loved that the fun times and adventurous moments were weaved with danger and darkness, it was all very thrilling. My one disappointment was the climax, it was cleverly built up but there's this one scene that paints an absolutely ridiculous visual when imagined. I just ended up laughing when it's not really supposed to be funny.
Overall, I loved this book and I can't wait to see where it goes from here. It seems like a series that would keep getting better with each book because the stakes are now higher. It has so many of the reasons that draw me to YA fantasy.
Rating: