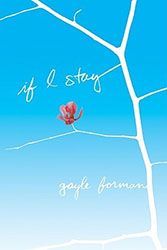 Title: If I Stay (If I Stay #1)
Author: Gayle Forman
Published: April 2nd 2009 by Dutton Juvenile
Purchase: Book Depository | Amazon
Synopsis:
Choices. Seventeen-year-old Mia is faced with some tough ones: Stay true to her first love—music—even if it means losing her boyfriend and leaving her family and friends behind?
Then one February morning Mia goes for a drive with her family, and in an instant, everything changes. Suddenly, all the choices are gone, except one. And it's the only one that matters.
If I Stay is a heartachingly beautiful book about the power of love, the true meaning of family, and the choices we all make.
My initial review was one with much theatrical flair as if it were written by an angsty teen hyped up on too many melo kdramas (which I am minus being a teenager). After having a few months to let the prior review simmer, I realized that most of my love for the book had everything to do with Mia's family and less to do with Mia herself and her relationship with Adam.
I loved Mia's family, they're the parents completely involved in their children's lives and it was refreshing to read about a passionate protagonist who enjoyed being with them. They are open minded, understanding and fiercely supportive. Mia and Adam's relationship developed just the way I like it, slowly, naturally and having realistic conflict but it just couldn't measure up to the capacity of Mia's family or even to her strong willed best friend Kim.
The book had me reeling from laughing to tears in seconds, rolling my eyes exasperated by these character's insecurities to feeling proud of their growth, wistful over their musical gatherings and family nights as if they were real. That's the impact of this book, it makes you forget your surroundings and be completely absorbed in this world.
I remember my emotions being high strung towards the climax of the book but then it ended so abruptly that I was left a bit confused like someone threw cold water at my face and I'm left wondering "What just happened?" It was very disappointing but hopefully Where She Went would make up for that. Overall, it was a pretty good book.
Rating: