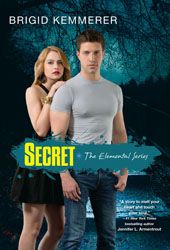 Title: Secret
Author: Brigid Kemmerer
Published: January 28th 2014 by Kensington Teen
Received from: NetGalley
Purchase: Book Depository | Amazon
Synopsis: Nick Merrick is stretched to the breaking point. Keep his grades sky-high or he'll never escape his hometown. Keep his brother's business going or the Merricks will be out on the street. Keep the secret of where he's going in the evenings from his own twin—-or he'll lose his family. Keep his mind off the hot, self-assured dancer who's supposed to be his "girlfriend's" partner.
Of course there's also the homicidal freak Quinn has taken to hanging around, and the Elemental Guide counting the hours until he can try again to kill the Merrick brothers. There's a storm coming. From all sides. And then some.
Nick Merrick, can you keep it together?
Unlike its predecessors the story focuses on Nick and Quinn rather than Nick and his love interest and there's far less action based conflict. Secret reads like a YA contemporary issue book with a tinge of the paranormal. The usual action packed plot comes secondary to all the problems faced by both Quinn and Nick, I didn't really mind but the story did drag at times.
I was surprised when I found myself more intrigued with Quinn's character. I cheered on her badassery and nodded in approval every time she stood up for herself but it quickly devolved into frustration and confusion at her progression. She's full of resentment and jealously and she makes stupid decisions at times, it is hard to like her but eventually she grew on me. As for Quinn's love interest, I initially hated him but somehow Brigid Kemmerer convinced me that there was more to his character. Their romance still makes me cringe but they complement each other very well.
Nick is completely paralysed by his fear of rejection and throughout the majority of the book he is indecisive and scared of the choices he must make, understandable so. He is uncertain and insecure which causes him to be an ass at times but he is also suffering from the weight of the secret he carries around, inadvertently hurting people. His struggle was prolonged, it added to the realism of his situation but it was boring at times.
In Secret, he finds relief and comfort in Adam. I like Adam well enough, he's a good for and with Nick. He's independent, confident, playful, sarcastic and determined but he's not really memorable especially since Quinn stole the spotlight from him. Their romance wasn't as exciting as I hoped it would be but it was warm and sweet and as realistic as a paranormal can get. They just didn't have me as reeling as when I read Breathless, Nick's novella. As for the action, it was definitely a bang. There was a lot of it crammed into a few chapters but it was very much appreciated and enjoyable. It was the part of the book that grabbed my attention the most.
Throughout this book I felt a whiplash of emotions but in the end Secret surprised me. I spent the first half conflicted, torn between dislike and utter disappointment. It wasn't a good place to be but it wrapped up so satisfyingly, all my negative feelings were soothed and I finished Secret with a smile (more like a smile then OH DAMN!) on my face. It covers a whole range of issues and they were handled beautifully, the whiplash was worth it in the end.
Thanks to Kensington Books and NetGalley for approving me to review this title.
Rating: