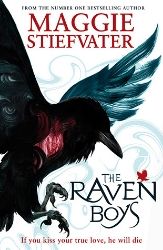 Title: The Raven Boys
Author: Maggie Stiefvater
Published: Published September 19th 2012 by Scholastic
Purchase: Book Depository | Amazon
Synopsis:
Every year, Blue Sargent stands next to her clairvoyant mother as the soon-to-be dead walk past. Blue never sees them–until this year, when a boy emerges from the dark and speaks to her.
His name is Gansey, a rich student at Aglionby, the local private school. Blue has a policy of staying away from Aglionby boys. Known as Raven Boys, they can only mean trouble.
But Blue is drawn to Gansey, in a way she can't entirely explain. He is on a quest that has encompassed three other Raven Boys: Adam, the scholarship student who resents the privilege around him; Ronan, the fierce soul whose emotions range from anger to despair; and Noah, the taciturn watcher who notices many things but says very little.
For as long as she can remember, Blue has been warned that she will cause her true love to die. She doesn't believe in true love, and never thought this would be a problem. But as her life becomes caught up in the strange and sinister world of the Raven Boys, she's not so sure anymore.
I knew I was going to like this book but little did I expect to fall so hard for Blue and the raven boys. I don't think I can express the magic of this book, the way sleepy Herietta ensnares people and the way I can't stop thinking about all the characters. Gansey, Adam, Ronan, Nonah and Blue are written with so much personality, it exudes from every mundane action they perform. Maggie Stiefvater's writing is just so expressive and fluid, it's like a movie playing in your mind.
The raven boys are these larger than life characters especially Gansey, the leader that tie these boys together. It's impressive that each of them are given equal attention and development, they were all central to the story and it's a wonder how they all seemed to leap to life from the pages. It's even more of wonder when this space is shared with Blue and her family, they're of the chaotic sort, brilliant and odd and colourful, it's mesmerizing just imagining a day at 300 Fox Way. I love that Blue is written as so flawed, a girl who tries hard to appear different, a bit vain, very sensible, adventurous, sometimes insecure, I can go on and on about her traits. I adore that there's no placing them in neat boxes. I love these characters so very strongly.
There isn't a literal life or death reason that drives these character's motives in finding Glendower though their reasons feel just as significant, as if it were indeed a matter of life and death. It's difficult to not get wrapped up in the chase and their adventure but you have to really love the characters to enjoy the story. While its intriguing and whimsy and unlike anything I've ever read, it also slowly paced and it seems like no action really propels the story forward yet there are all these little connections being established that's just astounding in the end. It isn't a point A to point A type of plot, more like a branching, a network of emotions and tiny discoveries and thoughts that give this story so much substance.
Sometime's Gansey's passion can be overwhelming and at times I couldn't help but wonder what was the point to it all but I still love it. I think Maggie Stiefvater can write about these characters discussing the weather and I'd read it with fervor. Glendower, ley lines and the magic hidden at Henrietta is some of the most captivating stuff I've read this year. It's a brilliant start to what I'm sure would be an amazing series. My mind is already filled with the want of reading the second and third book. I highly recommend The Raven Boys.
Rating: