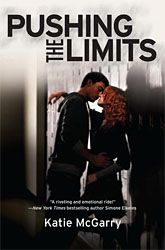 Title: Pushing the Limits
Author: Katie McGarry
Published: July 31st 2012
Purchase: Book Depository | Amazon
Synopsis:
No one knows what happened the night Echo Emerson went from popular girl with jock boyfriend to gossiped-about outsider with "freaky" scars on her arms. Even Echo can't remember the whole truth of that horrible night. All she knows is that she wants everything to go back to normal.But when Noah Hutchins, the smoking-hot, girl-using loner in the black leather jacket, explodes into her life with his tough attitude and surprising understanding, Echo's world shifts in ways she could never have imagined. They should have nothing in common. And with the secrets they both keep, being together is pretty much impossible.
Yet the crazy attraction between them refuses to go away. And Echo has to ask herself just how far they can push the limits and what she'll risk for the one guy who might teach her how to love again.
I'd be surprised if you haven't heard about Pushing the Limits yet as there are loads of raving reviews. I was excited but weary to read this book, I've learned from past experiences that hype might lead to crushing disappointment though that wasn't totally the case here. While I did enjoy the story I was also slightly frustrated by it.
Echo and Noah were very interesting characters and I was immediately invested in both of their histories and stories. The alternating point of view made me care about the characters, I found myself surprised that I gravitated more towards Noah's issues and his story and even more surprised when I became totally infatuated with the secondary characters Beth and Isaiah. I went crazy for those two characters!
Noah and Echo, they're the couple that leaves silly grins on your face, blushing and you can't help both root for their love and happiness. Katie McGarry writes the type of chemistry that jumps off the pages and induces heart fluttering. It was easy to love Noah, I pegged him for the typical "bad boy" written in YA but his character was well developed and he had more dimensions to his story than I expected. While it was difficult to connect with Echo, I admired her strength. She frustrated me at times but mostly I felt bad for all the tragedy she had to endure.
I had a love/hate relationship with the writing. It was spot on when describing certain emotions and it felt raw and honest even with its simplicity but sometimes it was a bit cheesy and it made me cringe/gag. At times I also felt like Noah and Echo's relationship was being pushed in my face, the drama was too much for me and it overshadowed what I enjoyed about this book – their individual stories.
Unfortunately, after finishing Pushing the Limits I didn't give it much thought, it was a quickly forgotten contemporary in my mind. I knew I enjoyed reading it and felt exasperated by some elements but I didn't love it like so many others. I rounded it off to 4 stars but this book fell somewhere between 3.5 and 4.
Rating: