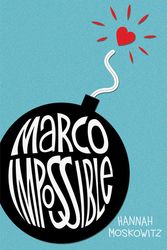 Title:
Author: Hannah Moskowitz
Published: March 19th 2013 by Roaring Brook Press
Purchase: Book Depository | Amazon
Synopsis:
Best friends Stephen and Marco attempt a go-for-broke heist to break into the high school prom and get Marco onstage to confess his love for (and hopefully steal the heart of) Benji, the adorable exchange student and bass player of the prom band. Of course, things don't always go according to plan, and every heist comes with its fair share of hijinks.
I read Teeth, I loved it and I now knew I needed all of Hannah Moskowitz's books in my life. I braced myself for the unexpected, I didn't know which direction Marco Impossible would go, should I prepare myself for utter soul wrenching angst or heart exploding happiness? (My emotions tend to be one extreme or the other for Hannah Moskowtiz). I found a charming, wonderfully fun book with an undercurrent darkness following endearing, complex characters that didn't completely ruin me and had me smiling throughout (mostly).
It's a quick read but Marco and Stephen's friendship lingers long after completing the book. Marco is loud, bold and witty, his personality is just so grand that it was sometimes overwhelming and annoying. Stephen is much more relaxed, he sort of fades in the presence of Marco and for much of the book he questions their relationship. His insecurities are very relatable but despite his misgivings he'd do anything for his friend. I adored the way their friendship was written.
The hijinks in their heist was so much fun to read, there was this lovely innocence in all the effort Marco and Stephen put int Marco having his moment. Of course, there was also hurt and anger and this looming worry for Marco's safety. Secrets come to light and Marco's vulnerabilities are revealed and it kicks you right in the feels. I loved the way everything unfolded throughout the book. I was much more invested in the friendship between Marco and Stephen to really care about the either of their love interests and Marco's absent family and that subplot was unmemorable.
All in all this was an enjoyable read and I can't wait for more of Hannah Moskowitz's works. Her books just make me feel so much.
Rating: