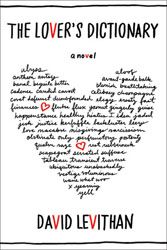 Title: The Lover's Dictionary
Author: David Levithan
Published: Published January 4th 2011 by Farrar, Straus and Giroux
Purchase: Book Depository | Amazon
Synopsis: A modern love story told through a series of dictionary-style entries is a sequence of intimate windows into the large and small events that shape the course of a romantic relationship.
I went into this book expecting a quick read that would leave no imprint on my life. I was very wrong. David Levithan's writing is magic. He weaves characters and a story with minimal words, crafting it together in a brilliant dictionary format. Reading the Lover's Dictionary feels intimate and real, it's glimpsing into another's person's life and seeing your own experiences and feelings. Even if you've never been in love or you're currently in a relationship, there's at least one page that is relatable.
There are books with thousands of words more than Lover's Dictionary yet many fail to induce the same heart wrenching, bittersweet, happy feelings I experienced while reading this. It's just bits and pieces from these two people's lives yet it's full of significance and meaning and I was able to imagine so many scenes in this book, some borne out of a single sentence.
Rating: