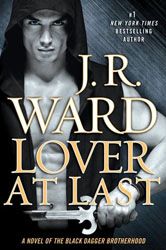 Title: Lover at Last
Author: J.R. Ward
Published: March 26th 2013 by New American Library
Purchase: Book Depository | Amazon
Synopsis:
Qhuinn, son of no one, is used to being on his own. Disavowed from his bloodline, shunned by the aristocracy, he has finally found an identity as one of the most brutal fighters in the war against the Lessening Society. But his life is not complete. Even as the prospect of having a family of his own seems to be within reach, he is empty on the inside, his heart given to another….
Blay, after years of unrequited love, has moved on from his feelings for Qhuinn. And it's about time: The male has found his perfect match in a Chosen female, and they are going to have a young—just as Qhuinn has always wanted for himself. It's hard to see the new couple together, but building your life around a pipe dream is just a heartbreak waiting to happen. As he's learned firsthand.
Fate seems to have taken these vampire soldiers in different directions… but as the battle over the race's throne intensifies, and new players on the scene in Caldwell create mortal danger for the Brotherhood, Qhuinn finally learns the true definition of courage, and two hearts who are meant to be together… finally become one.
Fellow fans of the BDB series know how agonizing the long wait was for Lover at Last. I stopped following this series a long time ago but the introduction of Blay and Qhuinn had me hooked on their story since book 4 and I have lost count the number of times I have reread their scenes.
It's been a long, hard road for Blay and Qhuinn, even when they finally got their own book the angst didn't let up. I have very mixed feelings towards Lover at Last. While the characters I've come to love and obsess over got that satisfying ending, the journey towards that end was filled with bumps and by the end I felt robbed. There are only two scenes which completely redeem this book and stop it from being utterly disappointing.
The miscommunication between Blay and Qhuinn was frustrating and tiring resulting in the story being somewhat disjointed. I convinced myself that J.R. Ward was being true to her characters, it was a confusing time for both Blay and Qhuinn and some of the plot twists in this book can justify their actions. However, this book is filled with so much misunderstanding and them struggling with each other, there was rarely a time when either character wasn't hurting. When their issues are resolved, it's wrapped up in a few pages and the time we finally see Blay and Qhuinn happy was all too short, it wasn't enough to be satisfying.
Also, I didn't care about the side stories, it was irritating and I found myself skipping it. Maybe I was too eager for all the Qhuay action but there were just too many switches to different characters. It added to that disjointed pacing of the story. Nevertheless, I am interested in iAm and since I have a weakness for males suffering unrequited love, I'm excited about the fate of Saxton.
Despite my complaints, there were many things I loved about the story. Blay and Qhuinn's development throughout the series has been amazing and in this book I feel so proud of them both, they've truly come a long way. I have always respected Blay's strength and it definitely shows in Lover at Last; the way he stands up for himself and the courage he has to go after what he wants, all the while being kind and loyal towards people. I'm happy that Qhuinn confronts his past and he learns to face and accept who he is. I also loved Blay's parents and it was so enjoyable to meet the Brothers once again, their support and love for each other is something I would always admire. The plot twists were interesting and I am anticipating the next release in the series.
I am not a huge fan of adult/erotic romance and I like paranormal romance much less so I have mad respect towards J.R. Ward for completing sucking me into this world and making me love her characters as much as I do. When it comes down to it, I am so happy and grateful J.R. Ward shared the story of my favourite couple. As far as adult m/m romances go, it was well done; I definitely hope this inspires more readers to try the genre. If you haven't tried this series, then give it shot, there are so many characters you're sure to get attached to one of them and Ward knows how to write an exciting and sexy story. 😉
Rating: