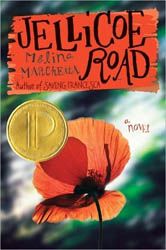 Title: Jellicoe Road
Author: Melina Marchetta
Published: March 9th 2010 by HarperTeen, first published August 28th 2006
Purchase: Book Depository | Amazon
Synopsis: Abandoned by her mother on Jellicoe Road when she was eleven, Taylor Markham 17, finally confronts her past. Hannah, the closest adult she has to family, disappears. Jonah Griggs, moody stares and all, is back in town. If Taylor can put together the pieces of her past, she might just be able to change her future.
Right from the start Melina Marchetta sucks you into the story. You're catapulted into the middle of an incredibly defining event. The beginning of the book is shrouded in mystery, and it's a little confusing knowing who's who and what they signify, if they're even real or just a made up story. I loved the way theories flew through my head until the right one hit, it was thrilling and engrossing.
The execution of the story is brilliant, for about 100 or so pages I was fumbling to link the characters together but the slow unveiling of the truth hidden within those pages was completely heartbreaking. The way the past and present intertwined and paralleled each other is both fascinating and tragic. Even when I thought I had a grip on everything, there was always a new surprise waiting to be discovered.
Taylor Markham is such an interesting character, a deeply flawed, beautiful, striving person. Her grief and pain was written so raw and real, I felt heartbroken and frustrated and angry for her. The characters surrounding her are the sort of friends you'd want, good and kind, a little weird but fiercely supportive. I loved and appreciated their strong friendship. And then there are even more characters but these are the ones who cause stifling sobs and heartache. Yes, I get quite emotional when I love a book, more so when I love the characters.
This is the sort of unforgettable book you need to experience firsthand knowing as little as possible about the story. I've tried to touch on the story in my review but I can only convey my feelings towards it, it's just one of those you need to dive in. I can't recommend it enough, it's a surreal reading experience and I loved every moment of it.
Rating: