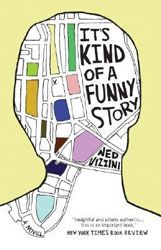 Title: It's Kind of a Funny Story
Author: Ned Vizzini
Published: May 1st 2007 by Miramax (first published April 1st 2006)
Purchase: Book Depository | Amazon
Synopsis:
Like many ambitious New York City teenagers, Craig Gilner sees entry into Manhattan's Executive Pre-Professional High School as the ticket to his future. Determined to succeed at life — getting into the right high school to get into the right college to get the right job — Craig studies night and day to ace the entrance exam, and does. That's when things start to get crazy.
At his new school, Craig realizes that he's just average, and maybe not even that. He soon sees his once-perfect future crumbling away. The stress becomes unbearable and Craig stops eating and sleeping — until, one night, he nearly kills himself.
Craig's suicidal episode gets him checked into a mental hospital, where his new neighbors include a transsexual sex addict, a girl who has scarred her own face with scissors, and the self-elected President Armelio. There, isolated from the crushing pressures of school and friends, Craig is finally able to confront the sources of his anxiety.
Ned Vizzini, who himself spent time in a psychiatric hospital, has created a moving tale about depression, that's definitely a funny story.
Craig is a 15 year old who lives in a nice neighbourhood, has a supportive, loving family and goes to a good school. He also has depression and on the night he decides to commit suicide, he checks himself into a hospital. I breezed through the pages of this book quite quickly. The writing was simple and easy to read while still effectively and subtly expressing the author's thoughts on mental illness. Craig isn't just a vessel for this purpose, he's a well rounded, sometimes annoying character and it is his story that was told. He was very relatable as the pressure he felt is something everyone experiences to some degree. I liked the way the author dealt with the shame Craig felt for being depressed, the stigma that comes with having a mental illness or being in a psychiatric hospital.
The book wasn't laugh out loud funny, instead taking on a dry humour that didn't distract from the subject of depression. It was somewhat uplifting and genuine and I really liked the support the people in the psychiatric ward gave to each other. Craig spends only a few days at the hospital where he learns how to face the truths he was burying. Unfortunately, the situations that Craig encountered were forgettable and his rambling monologues irritated me.
Even though I enjoyed the story and I felt that the characters were authentic, I couldn't connect with them at all. It's hard to love a book having no attachment to the characters. It's Kind of a Funny Story was realistically written and I love the development of Craig's character and the messages in the book. It wasn't a particularly memorable read for me but I'd still recommend you read it if you want some insight into depression.
My Recommendation: My Mad Fat Diary
I haven't read or watched many books/shows on mental illness but I recently watched My Mad Fat Diary and I wholeheartedly recommend this show. It's a six episode British series based on the book My Fat, Mad Teenage Diary written by Rae Earl. My Mad Fat Diary is a raw, honest portrayal of the issues teenagers face, not only mental illness, but issues like self-acceptance, body image, sexuality and so much more. It isn't pushed in your face or presented in a condescending way but it is realistic and funny and lovable and painful. I adore the characters, the music and the relationships. The trailers don't do this justice, just watch the first episode.
Rating: