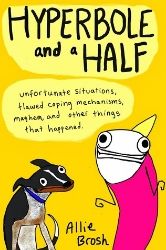 Title: Hyperbole and a Half
Author: Allie Brosh
Published: October 29th 2013 by Touchstone
Purchase: Book Depository | Amazon
Synopsis:
This is a book I wrote. Because I wrote it, I had to figure out what to put on the back cover to explain what it is. I tried to write a long, third-person summary that would imply how great the book is and also sound vaguely authoritative–like maybe someone who isn't me wrote it–but I soon discovered that I'm not sneaky enough to pull it off convincingly. So I decided to just make a list of things that are in the book:
Pictures, Words, Stories about things that happened to me, Stories about things that happened to other people because of me, Eight billion dollars*, Stories about dogs, The secret to eternal happiness*
*These are lies. Perhaps I have underestimated my sneakiness!
There were many attempts to write my review wittier than I really am. I had the unrealistic dream that somehow the humour of Hyperbole and a Half would become a quality I would now possess. I think I had quite a few unrealistic dreams while reading this book like I'd meet Allie Brosh and she'd become my best friend, or there'd immediately be a sequel upon finishing the book.
It's very easy to make me laugh. This trait combined with a really funny book lead to full on snorting, crying and quick glances around to see if people were whispering about my giggling outbursts. Hyperbole and a Half is fantastic, it's such a good pick me up book and on a few occasions I identified with Allie Brosh's neurosis. I adore her drawings, wonderfully crude with magnificent expressions. They were so spot on for the awkward, funnily mundane stories told – her menacing habits as a child to her uncontrollable dogs to stalking, bullying birds. It was the best. THE BEST!
I can't recall the last time I had so much fun reading a book or ever laughing so much while reading, I definitely recommend it to everyone. You can check out her blog if you want to be introduced to her storytelling or just desire more of it.
Rating: