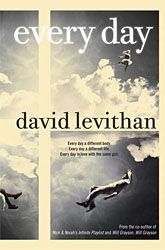 Title: Every Day
Author: David Levithan
Published: August 28th 2012
Received From: Gizmo's Reviews
Purchase: Book Depository | Amazon
Synopsis:
A is a teen who wakes up every morning in a different body, living a different life.
Every day a different body. Every day a different life. Every day in love with the same girl.
There's never any warning about where it will be or who it will be. A has made peace with that, even established guidelines by which to live: Never get too attached. Avoid being noticed. Do not interfere.
It's all fine until the morning that A wakes up in the body of Justin and meets Justin's girlfriend, Rhiannon. From that moment, the rules by which A has been living no longer apply. Because finally A has found someone he wants to be with—day in, day out, day after day.
Every Day is unlike anything I've ever read yet there's a familiarity to it. There are a lot of things I loved about this book but also things I equally disliked.
I loved the writing, the words felt like a train impacting on my heart – it's heavy, bittersweet, sad, hopeful and beautiful. It's very effective in conveying A's circumstances and I felt like I saw and appreciated so many different lives even though they each spanned a chapter.
I am very grateful to have known A, I like that A is a genderless being and I love A's thoughts, voice and perspective. A offers so much to the reader, A makes me want to view the world differently and I think it's amazing that David Levithan created a character that has that type of impact. A is not without flaws as there were times the character frustrated me and I struggled to accept some of the things A did.
I can't say I was ever drawn to Rhiannon, I thought she was strange and interesting and there were times I liked the influence she had on A but I never connected to her though she played an essential role..
A's obsession with Rhiannon was a bit sickening/overbearing at times and it took some of the enjoyment out of reading the book. As soon as the novelty of the concept of a new life everyday wore off I thought some chapters dragged. By the time I finished it I felt unsatisfied, I felt like certain plot points were left unanswered but like A says:
"There will always be more questions. Every answer leads to more questions. The only way to survive is to let some of them go."
Every Day is not a book I fell in love with, it's a book to be absorbed, it's a book to make one think and appreciate, it's a slow build up of feelings while reading. I struggled with rating this book but though it's 3.5 stars now it's the kind of book that grows on me the more I think about it so in the future it might even be one of my favourite reads. I think everyone should read Every Day, the story may have been a bit shaky for me but the ideas and views in it should be read, known and remembered.
Rating: