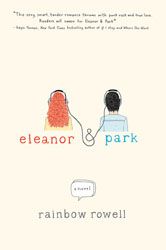 Title: Eleanor & Park
Author: Rainbow Rowell
Published: February 26th 2013 by St. Martin's Press (first published February 26th 2012)
Purchase: Book Depository | Amazon
Synopsis:
Set over the course of one school year in 1986, this is the story of two star-crossed misfits—smart enough to know that first love almost never lasts, but brave and desperate enough to try. When Eleanor meets Park, you'll remember your own first love—and just how hard it pulled you under.
As much as I would like to refrain from turning this post wholly into fangirling and gushing rather than a critical review, it just seems highly improbable. Eleanor & Park was complex and layered filled with subtleties in the characters' interactions, great music and a slow, sweet pace that made me savour this book.
Upon meeting Eleanor and Park, I immediately loved both characters. They're written realistically and it felt natural to love them as much as I did. Eleanor was snarky, cynical and often self-deprecating but her life wasn't easy and you understand why she acted the way she did. Park was the guy who wanted to blend in, he was insecure and afraid of what people thought of him but he was also charming and sweet.
I loved the way their relationship developed throughout the book. It was the small gestures, the quiet mutual understandings in the beginning, the way they communicated that made me appreciate their love. Their feelings started as something tender, almost fragile and it grew into this beautiful love that gave me all the warms feels. It wasn't corny or overly fluffy; there were very realistic moments that were painful, raw, honest and downright scary.
Eleanor & Park was about two characters discovering who they were through each other and the issues they each had to deal with. They're both very human characters filled with insecurities and they come from imperfect homes. Rainbow Rowell did a fantastic job in writing about how they dealt with that, she showed how love can make people better and brave. Reading about them was like a breath of fresh air followed by multiple kicks to the heart.
This is one of my all time favourite reads, Knowing Eleanor and Park gave me both joy and sadness, it was bittersweet finishing this book because I felt like I was saying goodbye to friends. I wish I could read this for the first time over and over again just to experience the feelings I had while reading this and I'd definitely recommend this book to everyone.
Rating: