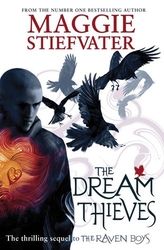 Title: The Dream Thieves
Author: Maggie Stiefvater
Published: September 5th 2013 by Scholastic
Purchase: Book Depository | Amazon
Synopsis:
Now that the ley lines around Cabeswater have been woken, nothing for Ronan, Gansey, Blue, and Adam will be the same. Ronan, for one, is falling more and more deeply into his dreams, and his dreams are intruding more and more into waking life. Meanwhile, some very sinister people are looking for some of the same pieces of the Cabeswater puzzle that Gansey is after…
I am obsessed. I didn't want to put this book down for even a second and I'm flying far too fast through this series trying to fill my life with Henrietta and it's inhabitants. Maybe it's because the book focuses just a bit more on my favourite raven boys, Ronan and Adam or maybe it's because there are endless mindblowing revelations that beg a thousand more questions or the tension that grows between the strong minded Blue and all encompassing Gansey that makes me love this book so much more than the first.
There's Ronan, an intriguingly dangerous boy who can pull his creations from dreams, a wicked and intense magic that gives way to some creepy, chilling scenes. There's Adam whose life filled with all its pain and exhaustion teeters the edge of instability, whose principles are frustrating to no end yet horribly heartbreaking. There's Gansey, whose scholarly and affable nature cracks just enough to give way to someone wild and just a tiny bit reckless. There's Noah with his kitten like personality whose presence is fading. Then there's Blue with all her knowledge, bravery and oddness, her desire to be something more, someone equal to the boys, not knowing just how much she grounds them.
They've entered unknown territory with Cabeswater, magic and their friendships. Their relationship becomes more strained as they come to terms with the actions in the previous book, Glendower seemingly even farther than before as the stakes rise and danger stalks them. The dynamics have shifted from the first book, it's interesting to see how the characters have adapted to the changes. Reading about the boys made me feel stressed, I was afraid one would do something desperate. They're all a bit lost in this book, they make fumbling mistakes and questionable decisions but it only adds to their development.
I can't predict the direction of the plot at all. There's a lot going on at the moment, its become bigger than the quest and sometimes it can be overwhelming but I still very much love it. I highly recommend this series.
Rating: