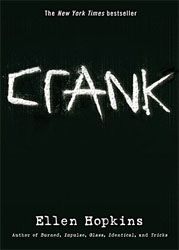 Title: Crank
Author: Ellen Hopkins
Published: October 5th 2004 by Margaret K. McElderry Books (first published October 1st 2004)
Purchase: Book Depository | Amazon
Synopsis:
Kristina Georgia Snow is the perfect daughter: gifted high school junior, quiet, never any trouble. But on a trip to visit her absentee father, Kristina disappears and Bree takes her place. Bree is the exact opposite of Kristina — she's fearless. Through a boy, Bree meets the monster: crank. And what begins as a wild, ecstatic ride turns into a struggle through hell for her mind, her soul — her life.
This was my first time reading a book in verse and it was definitely a satisfying experience. Crank shows the downward spiral and destruction of Kristina as she struggles with her addiction to crystal meth.
The writing style was very new to me and I was surprised by how well the story was told in verse, how easy it was to visualize the scenes and the intensity only heightened the disturbing mood of the story and captured the emotions of Kristina. It was very realistic but grossly absorbing as well and I felt like I couldn't turn the pages quick enough.
The storyline is both scary and heart wrenching, it shows not only how crystal meth/the monster shatters the life of the user but also affects the people around them. It's even more powerful as the story is based on the author's daughter.
It was tragic seeing the harsh contrast before Kristina discovered the monster and after she became consumed with need for it. I was amazed at how quickly she changed and intrigued by her alter ego Bree. Bree was the opposite of Kristina, confident, wild and bold, even more so when she was on the monster, it continuously enabled her addiction.
This is not a book you go in expecting to like the story or the characters, it's a message driven story that shows the ugly reality of drug addictions and how it transforms the lives of everyone involved. Crank should be read by everyone, it is a horrifyingly fascinating read that leaves a powerful impact on the reader. Even after finishing this I was left with a very unsettling feeling.
Rating: