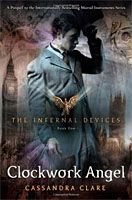 Title: Clockwork Angel
Author: Cassandra Clare
Published: August 31st 2010
Purchase: Book Depository ♦ Amazon
Synopsis:
When sixteen-year-old Tessa Gray crosses the ocean to find her brother, her destination is England, the time is the reign of Queen Victoria, and something terrifying is waiting for her in London's Downworld, where vampires, warlocks and other supernatural folk stalk the gaslit streets. Only the Shadowhunters, warriors dedicated to ridding the world of demons, keep order amidst the chaos.
Kidnapped by the mysterious Dark Sisters, members of a secret organization called The Pandemonium Club, Tessa soon learns that she herself is a Downworlder with a rare ability: the power to transform, at will, into another person. What's more, the Magister, the shadowy figure who runs the Club, will stop at nothing to claim Tessa's power for his own.
Friendless and hunted, Tessa takes refuge with the Shadowhunters of the London Institute, who swear to find her brother if she will use her power to help them. She soon finds herself fascinated by—and torn between—two best friends: James, whose fragile beauty hides a deadly secret, and blue-eyed Will, whose caustic wit and volatile moods keep everyone in his life at arm's length . . . everyone, that is, but Tessa. As their search draws them deep into the heart of an arcane plot that threatens to destroy the Shadowhunters, Tessa realizes that she may need to choose between saving her brother and helping her new friends save the world. . . . and that love may be the most dangerous magic of all.
Clockwork Angel was such a quick enjoyable read, I loved that the writing style was simple and it had an easy fluent flow throughout the book. I also enjoyed every single character in this book and I already went in loving Jem just from listening to my friend talk about the series. This is my first Cassandra Clare book and it was everything I needed the book to be at the time.
The characters made this book for me. I was impressed by Tessa's strength and will, she was thrown into this new, terrifying world and she stood her ground. I was drawn to Will's charm and sarcasm, he'd always make me smile and I loved the concern he showed towards Jem. I adored Jem, I loved his gentleness and he was a very soothing character. He's the kind of character that makes things feel like it's going to be okay.
I enjoyed Henry, Charlotte, Jessamine and all other characters, they were so distinct from each other and I felt like I knew and cared a little for each of them. Of course I knew Magnus from many fangirl ramblings so he was such a treat in this book. It was a pleasant surprise that I felt something towards each character in this book. I also loved the tension between the characters; it gave mystery to the background story of their relationships. The love triangle is also one I can appreciate but also hate because it leaves you totally torn between Jem and Will, I just want everyone to have a HEA.
Though I found the story interesting it didn't grab my attention as I hoped it would and I wasn't pulled into the world of Shadowhunters or really fascinated by them, I was a bit disappointed by that. I did like the way the buildings and objects were described and Cassandra Clare's writing really brought out the atmosphere and moods of the story.
For the first 200 or so pages the pacing was never intense but the story definitely unfolded quickly and I loved the action in the books. There isn't anything I specific that I disliked but I feel like this read deserves a solid 3 stars, I loved the characters and writing but everything fell just short of amazing. I couldn't put the book down yet I simply only had a lukewarm feeling throughout. I am really looking forward to reading Clockwork Prince and I recommend this to everyone, it's an unbelievably quick read so if it's on your shelf then give it a go.
Rating: