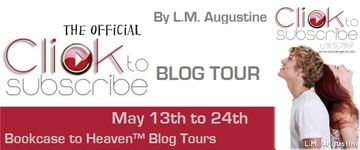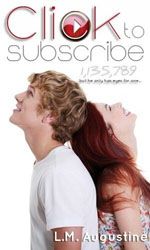 Title: Click to Subscribe
Author: L.M. Augustine
Published: May 9th 2013
Purchase: Smashwords | Amazon | Barnes & Nobel
Synopsis:
1,135,789. That's how many subscribers sixteen-year-old West Ryder has on his web vlog series. But he only has eyes for one of them.
As one of the internet's most prestigious video bloggers, West talks about high school relationships under the name "Sam Green." As far as he knows, no one from school, not even his best friend, Cat, has seen his videos. But the highlight of the whole thing is Harper Knight, who comments every day at exactly 2:02 in the afternoon. He doesn't know anything about her aside from the occasional deep philosophical messaging on why pizza tastes so delicious, but as stupid as it sounds, he might be falling for her. So when they finally agree to meet in real life, West's hope for romance seems more and more in reach. But that all changes as soon as he arrives at their meeting spot and sees Cat walking toward him, wearing the same "I <3 Sam Green" T-shirt Harper promised she'd have on. To his alarm, West realizes he is falling in love with the best friend who has always been a sister to him.
The internet addict in me rejoices at words like meme, internal screaming, vlog and overall dorkiness so I was extremely excited to read Click to Subscribe only to discover how much I disliked this book. I expected to read a cute, funny story about internet love but instead was hammered with angst and the most irritating main character ever. This might have been more enjoyable if West hadn't been so damn frustrating.
West was such an unlikable character, he was self-deprecating, indecisive and selfish. As much as I understood where he was coming from, it did not make it less of a headache to read. He was like this for the majority of the book, having repetitive monologues about why he shouldn't be with his best friend and how love is a curse. Loving Harper was all fine and dandy but Cat apparently effed up his "last chance" at love. His grief over his family also sometimes felt like info dumping, there was so little development that it felt like his mom's death was just there to give the character some much needed substance.
I liked Cat a lot more, it was refreshing to see such a direct and straightforward female character who chased after what she wanted though the role reversal was far less enjoyable (more like agonizing) when it came to West. Vulnerability and fear is normal but it's grating when I constantly have to read about it.
There were some things I appreciated like the author's ability to express how broken the relationship between West and his dad was, some laugh worthy moments as the characters are truly ridiculous and there was a vlog scene that seemed so raw and honest I actually felt for West. Initially, the banter between West and Cat/Harper was endearing but it quickly devolved into wasted text as their romance dragged on and on. Clearly, this wasn't the book for me but if you're interested in this quick read then check out some positive reviews.
Rating:


Giveaway
About L.M Augustine
L.M. Augustine is a YA romance author who is obsessed with writing about dorky teenagers, love, and happy endings. He currently lives in New England, where he spends far too much time reading books and screaming at his computer, and he believes that the solution to the world's problems can be found in chocolate cake. Click To Subscribe is his first novel, but it won't be his last.