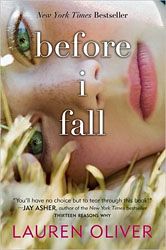 Title: Before I Fall
Author: Lauren Oliver
Published: March 2nd 2010
Purchase: Book Depository | Amazon
Synopsis:
What if you only had one day to live? What would you do? Who would you kiss? And how far would you go to save your own life?
Samantha Kingston has it all: looks, popularity, the perfect boyfriend. Friday, February 12, should be just another day in her charmed life. Instead, it turns out to be her last.
The catch: Samantha still wakes up the next morning. Living the last day of her life seven times during one miraculous week, she will untangle the mystery surrounding her death–and discover the true value of everything she is in danger of losing.
Before I Fall was an extraordinary and chilling read, everything about it was so different but I can't say I particularly enjoyed the story though I did love the book.
Lauren Oliver's writing is powerful. I initially didn't like the writing style but soon enough her words consumed me, it made me feel uncomfortable and scared and sad. It was thought provoking and intense. The plot twisted and weaved to form a complex web between the characters and I was so immersed in the story that I couldn't predict anything so revelations came as a shock, an impact slamming into me.
I didn't like any of the characters but I felt strong emotions towards each of them. More than one time I wanted to knock sense into Sam, the main character but she was refreshing. She wasn't a good person, she was mean, a bully, shallow, selfish and I initially felt nothing but anger towards her and her friends.
Even after her accident she seemed to only care about her self-interests but throughout the book Lauren Oliver skilfully develops her character in subtle ways so it doesn't come off as forced and I don't feel like slapping her as much. Her friends are the same, maybe worse, but then there are glimpses of how good friends they are to each other and for a second I can sympathize with them. There are other characters, good people and those in so much pain you will hurt for them but I believe it's best you get to know who they are by reading Before I Fall.
It's the ability to feel so much for these characters, this story that makes it incredible to read, Lauren Oliver doesn't shy away from the harsh realities of bullying but she doesn't demonize the bullies either. The issues aren't portrayed as black and white and I appreciated that. I recommend this to everyone especially teenagers, read it! I read it in one sitting, I couldn't stop and even days after reading the story still lingered in my mind.
Rating: