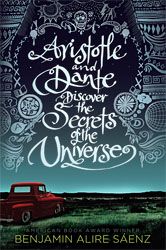 Title: Aristotle and Dante Discover the Secrets of the Universe
Author: Benjamin Alire Sáenz
Published: August 31st 2010
Purchase: Book Depository | Amazon
Synopsis:
Aristotle is an angry teen with a brother in prison. Dante is a know-it-all who has an unusual way of looking at the world. When the two meet at the swimming pool, they seem to have nothing in common. But as the loners start spending time together, they discover that they share a special friendship—the kind that changes lives and lasts a lifetime. And it is through this friendship that Ari and Dante will learn the most important truths about themselves and the kind of people they want to be.
I picked up this book on a whim not having any expectations but as I began reading I couldn't stop. It was one of those beautiful reads to get absolutely lost in; it's a story about identity, friendship, family and acceptance.
I adored the writing in this book, it's lyrical, truthful and very addictive. The story is told from Ari's (Aristotle) perspective so a lot of the story revolved around his thoughts and life. I wasn't put off by this at all (though I usually am), it made me love this book even more as I was so attached to his character. His actions and thoughts were intriguing and I enjoyed the complexity of his personality. I was even more invested in his friendship with Dante, a boy who couldn't be more opposite to Ari, he's so open minded and kind, I can't help but smile in his presence. It's difficult to not fall in love with both of them.
I also adored their parents. It's refreshing to read about good parents in YA who are involved in their children's lives, the parents of both characters made me appreciate this book so much more. They made me wish there were more parents like them out in the world.
I loved the slow development of Ari and Dante's relationship, the book revolves around their friendship but it holds so much more. There were so many details that were subtly woven to create a fulfilling storyline. Their friendship was so real and convincing, they're fun and heartwrenching and overall amazing.
Aristotle & Dante Discover the Secrets of the Universe is one of those books that brings out all the good in you – compassion, love, happiness. I felt like I was given so much when I read it and I definitely recommend this to everyone. By the end of it I felt both happy and sad and just FEELS though there was a moment where I was I wondered if that was it? It does leave you wanting more.
If you love books by John Green, Melina Marchetta or The Sky is Everywhere then I think you'd enjoy this, it's one of those very beautiful books that you must read.
Rating: