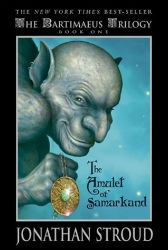 Title: The Amulet of Samarkand (Bartimaeus Sequence #1)
Author: Jonathan Stroud
Published: Published September 30th 2003 by Disney-Hyperion
Purchase: Book Depository | Amazon
Synopsis:
Nathaniel is a boy magician-in-training, sold to the government by his birth parents at the age of five and sent to live as an apprentice to a master. Powerful magicians rule Britain, and its empire, and Nathaniel is told his is the "ultimate sacrifice" for a "noble destiny." At the age of eleven, everything changes when he is publicly humiliated by the ruthless magician Simon Lovelace and betrayed by his cowardly master who does not defend him. Nathaniel vows revenge. He musters the strength to summon the 5,000-year-old djinni Bartimaeus to avenge Lovelace by stealing the powerful Amulet of Samarkand, the boy magician plunges into a situation more dangerous and deadly than anything he could ever imagine.
A book about hijinks, revenge, conspiracies and magic told by a snarky supernatural creature, what's not to love about it? Well for one, the characters. Bartimaeus is a narcissistic, self-satisfied, snarky djinni partial to the overuse of useless footnotes. I really liked him, he was funny, sarcastic and entertaining. He was a welcomed contrast to the other POV Nathaniel.
Nathaniel is the apprentice of an irritating, cowardly, oblivious magician who constantly disregards Nathaniel's talents and treats him with coldness and contempt. Nathaniel is smart, ambitious, naïve and ultimately annoying. Initially, I felt some sympathy towards him but over time I found it difficult to root for him and lost interest in his character.
He gets himself into dangerous situations by never fully thinking his plans through and being much too impatient and bull headed. I also felt nothing towards the villain and sweet, gentle Mrs. Underwood. It was such a disappointing ensemble cast and there wasn't any satisfying character growth that could redeem this bunch of unlikable characters. Even Bartimaeus' charm lost steam and he wasn't remarkable enough to make me enjoy this book.
Consequently, I felt bored and frustrated with the plot. It stemmed from Nathaniel's stupidity and vanity, barrelling from one ridiculous situation to the next. Sure, there was this overarching plot of conspiracy and rebels but I couldn't get into it at all. It's unfortunate because the magic system is very interesting and I really liked learning about the different creatures. It was complex, strange and wonderful.
I couldn't wait to finish this book, the first two hundred pages were enjoyable, I liked Bartimaeus and the magic system but reading the story made me feel tired and irritated. I am curious to see if the characters improve and the book did end with a bit of intrigue but overall The Amulet of Samarkand left me feeling like this:
Rating: