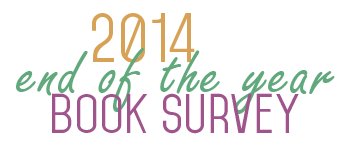 This book survey is hosted by Jamie at The Perpetual Page Turner. Looking back on 2014 I realize I'm a bit disappointed with my reading progress, I feel like I should have been able to read more and lessen my tbr pile but book shopping inhibits the desired decline. I had a lot of fun with the books I read and I discovered new amazing authors but I think in 2015 I want to focus on cleaning up my shelves and reading as much of the books I own. Anyhow here's my answers for the survey:
2014 Reading Stats
Number Of Books You Read: 52
Number of Re-Reads: 1
Genre You Read The Most From: YA Fantasy/Paranormal
Best in Books
1. Best Book You Read In 2014?
I can't choose one book so here are my top 3:
– The Book Thief by Markus Zusak
– Cress by Marissa Meyer
– The Dream Thieves by Maggie Stiefvater
2. Book You Were Excited About & Thought You Were Going To Love More But Didn't?
Winger by Andrew Smith. I had such high expectations for this book but the ending left me empty and I'm not sure if I want to continue on with the series. (Why did it get turned into a series?)
3. Most surprising (in a good way or bad way) book you read in 2014?
The Raven Cycle by Maggie Stiefvater – I was not expecting to love this book as much as I did, I became obsessed with this series.
4. Book You "Pushed" The Most People To Read (And They Did) In 2014?
The Book Thief by Markus Zusak – my friends aren't big readers so it was surprising when they listened to my recommendation.
5. Best series you started in 2014? The Raven Cycle by Maggie Stiefvater.
Best Sequel of 2014? To avoid duplicated answers I'll choose Saga volume 3 by Brian K. Vaughan and Fiona Staples.
Best Series Ender of 2014? I only read one series ender so by default it goes to The Last Sacrifice by Richelle Mead.
6. Favorite new author you discovered in 2014?
I discovered quite a few new authors but for this one I'd go with Rae Carson. Her books were so refreshing to read.
7. Best book from a genre you don't typically read/was out of your comfort zone?
I don't usually read adult fiction, much less historical adult fiction so Lamb: The Gospel According to Biff, Christ's Childhood Pal by Christopher Moore was surprisingly very enjoyable.
8. Most action-packed/thrilling/unputdownable book of the year?
The Ask and the Answer by Patrick Ness. Such a fantastic book!
9. Book You Read In 2014 That You Are Most Likely To Re-Read Next Year?
Teeth by Hannah Moskowitz. I adored these characters.
10. Favorite cover of a book you read in 2014?

11. Most memorable character of 2014?
Ronan Lynch of The Raven Cycle. I can't get him out of my mind.
12. Most beautifully written book read in 2014?
I'll Give You the Sun by Jandy Nelson.
13. Most Thought-Provoking/ Life-Changing Book of 2014?
The Book Thief by Markus Zusak.
14. Book you can't believe you waited UNTIL 2014 to finally read?
Vampire Academy by Richelle Mead.
15. Favorite Passage/Quote From A Book You Read In 2014?
"He was the crazy one who had painted himself black and defeated the world.
She was the book thief without the words.
Trust me, though, the words were on their way, and when they arrived, Liesel would hold them in her hands like the clouds, and she would wring them out like rain."
― Markus Zusak, The Book Thief
16.Shortest & Longest Book You Read In 2014?
Longest – The Last Sacrifice by Richelle Mead – 594 pages
Shortest – Ferragost (Lumatere Chronicles #2.5) by Melina Marchetta
17. Book That Shocked You The Most
Winger by Andrew Smith – the horrific, unexpected violence and character death.
18. OTP OF THE YEAR (you will go down with this ship!)
Ronan/Adam – if this doesn't happen I will be very sad.
19. Favorite Non-Romantic Relationship Of The Year
Rose & Lissa of the Vampire Academy series – I adore their friendship.
20. Favorite Book You Read in 2014 From An Author You've Read Previously
Quintana of Charyn by Melina Marchetta. She is the queen.
21. Best Book You Read In 2014 That You Read Based SOLELY On A Recommendation From Somebody Else/Peer Pressure:
Angelfall by Susan Ee.
22. Newest fictional crush from a book you read in 2014?
Adrian Ivashkov from the Bloodlines series.
24. Best Worldbuilding/Most Vivid Setting You Read This Year?
Saga by Brian K. Vaughan and Fiona Staples
25. Book That Put A Smile On Your Face/Was The Most FUN To Read?
Hyperbole and a Half by Allie Brosh
26. Book That Made You Cry Or Nearly Cry in 2014?
Teeth by Hannah Moskowitz
27. Hidden Gem Of The Year?
The Prince by Tiffany Reisz
28. Book That Crushed Your Soul?
The Book Thief and Teeth
29. Most Unique Book You Read In 2014?
Grasshopper Jungle by Andrew Smith
30. Book That Made You The Most Mad (doesn't necessarily mean you didn't like it)?
The Knife of Never Letting Go by Patrick Ness
Looking Ahead
1. One Book You Didn't Get To In 2014 But Will Be Your Number 1 Priority in 2015?
More Than This by Patrick Ness
2. Book You Are Most Anticipating For 2015 (non-debut)?
Carry On by Rainbow Rowell
3. 2015 Debut You Are Most Anticipating?
Simon vs. the Homo Sapiens Agenda by Becky Albertalli
4. Series Ending/A Sequel You Are Most Anticipating in 2015?
Winter by Marissa Meyer and the conclusion to the Raven Cycle series.
5. One Thing You Hope To Accomplish Or Do In Your Reading/Blogging Life In 2015?
Make youtube videos about books.