2013 Goodreads Reading Challenge
In 2012 I completed 50 books challenge so this year I increased it 60 books.
2013 TBR PILE Reading Challenge
I'm taking part of both Roof Beam Reader's and Bookish' 2013 TBR challenge. I absolutely failed in 2012 with the Dusty Bookshelf Challenge but hopefully I won't take on more than I can handle.
The Goal: To finally read 12 books from your "to be read" pile (within 12 months). I choose 12 books that are on my must read list for Roof Beam Reader's challenge. The other books on my TBR contribute towards Bookish 2013 TBR challenge, I'll be attempting A Sweet Kiss which includes 21 to 30 books. Here's my list of books. The year next to them indicates how long it was on my shelf.
1. The Two Towers by J.R.R. Tolkien (2 years)
2. Interview With the Vampire (4 years), review
3. The Last Song by Nicholas Sparks (3 years)
4. A Game of Thrones by George R.R. Martin (2 years)
5. Matilda by Roald Dahl (1 year)
6. The Book Thief by Markus Zusak (1 year)
7. Uglies by Scott Westerfeld (1 year), review
8. Wuthering Heights by Emily Bronte (1 year)
9. The Kite Runner by Khaled Hosseini (1 year)
10. The Catcher in the Rye by J. D. Salinger (2 years)
11. Dreamland by Sarah Dessen (1 year)
12. The Secret Garden by Frances Hodgson Burnett (7 years)
13. Clockwork Prince by Scott Westerfeld, review (1 year)
2013 Standalone Reading Challenge & Contemporary Challenge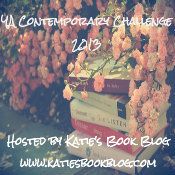 This Standalone Reading Challenge is hosted by I Like These Books and Icey Books and the YA Contemporary Challenge is hosted by Katie's Book Blog.
The Goal: Read 15 Young Adult or Middle Grade standalone novels in 2013 that are released in the United States between January 1s – December 31, 2013.
I'll fill up the list throughout the year.

1. Eleanor & Park by Rainbow Rowell
2. Just One Day by Gayle Forman
3.
4.
5.
6.
7.
8.
9.
10.
11.
12.
13.
14.
15.
Don't Let It End Reading Challenge

This challenge is hosted by Fiktshun. I dread finishing series as well and many series are concluding this year: The Mara Dyer Triology, The Unearthly series, The Infernal Devices, Across the Universe, Gone series and I can go on. Hopefully this challenge will help me keep on top of the series I've started and motivate me to finish them.
1. Clockwork Princess by Cassandra Clare, review
2. Light by Michael Grant
3. Mockingjay by Suzanne Collins
4. A Monster Calls by Patrick Ness
Dystopia Reading Challenge 2013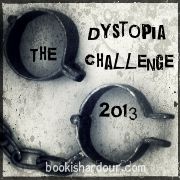 This challenge is hosted by Bookish Ardour. Since I've only recently started reading dystopia novels I thought this would be very fun to do! I'm doing the Asocial level (5 books) and I'll update the list throughout the year.
1. Mockingjay by Suzanne Collins
2. Allegiant by Veronica Roth
3.
4.
5.
6.
The Spring of Sarah Dessen Reading Challeng

This challenge is hosted by Ramblings of a Daydreamer. I have most of Sarah Dessen's books yet I've only read Just Listen so hopefully I can read at least three of those this year.
1. Dreamland
2. The Truth About Forever
3. Lock & Key
A-Z Challenge 2013

The challenge involves reading a book beginning with each letter of the alphabet hosted by Babies, Books and Beyond.
A – Attachments by Rainbow Rowell
B – The Boy in the Striped Pyjamas by John Boyne
C – Crank by Ellen Hopkins
D –
E – Eleanor & Park by Rainbow Rowell
F – Fangirl by Rainbow Rowell
G – A Game of Thrones by George R.R. Martin
H – The Hero's Guide to Saving Your Kingdom by Christopher Healy
I – It's Kind of a Funny Story by Ned Vizzini
J – Jellicoe Road by Melina Marchetta
K –
L – Lover at Last by J.R. Ward
M – A Monster Calls by Patrick Ness
N –
O –
P – The Paper Menagerie by Ken Liu
Q –
R –
S – Scott Pilgrim's Precious Little Life by Bryan Lee O'Malley
T – Thin Ice by Mikael Engstrom
U – Uglies by Scott Westerfeld
V –
W – What They Always Tell Us by Martin Wilson
X –
Y – Y: The Last Man, Vol. 1: Unmanned by Brian K. Vaughan
Z –